THE STORY OF SKYWAY
In the history of the sport of BMX, we have seen many companies come and go. Only a handful have stood the test of time and are still around today.
Of the companies that are still in existence today, even fewer of them can boast that they are still under the same ownership!
Skyway Machine, also known as Skyway Recreation Products, is one of the rarities. Founded in 1963, Skyway is alive and well, enjoying decades of thriving business, making molded wheels for bicycles, medical supplies, recreational, and utility use.
In a world where most companies have packed up their equipment and headed overseas for cheaper production and bigger profit margins, Skyway has remained a company that is proud of their "Made in the USA" slogan that is printed on every Tuff Wheel box that leaves their factory.
In their 11 years prior to entering the BMX market, Skyway was a full-time machine shop. First manufacturing hi-tech aerospace machined parts, then expanding to enter the world of motocross, making such parts as Silencer spark arrestors.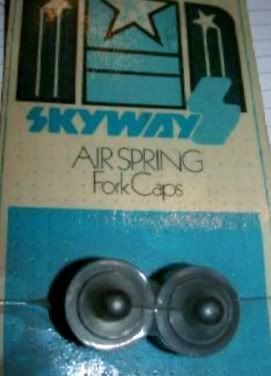 One of Skyway's biggest accomplishments in the early days, was providing Disney with the small moving parts that allowed one of their feature attractions "'Great Moments with Mr. Lincoln" to actually work.
With Skyway's growing involvement with motocross accessories, they thought they could make the industry's first composite nylon wheel. After some thought, they realized that it wouldn't work due to the heat that is expelled from a motorcycle wheel, so they decided on the next best thing - a composite bicycle wheel for BMX use.
In 1974, Skyway entered the BMX history books by "re-inventing the wheel" with their brand new "Tuff Wheel 1". This first Tuff Wheel was available in black only and featured a coaster brake. The demand and popularity for these wheels steadily increased as the first few years rolled along. Then, in 1977, Schwinn contracted Skyway to provide yellow Tuff 1's as their "stock" wheel for their "Scrambler" bicycle. This was Skyway's very first of many "OEM" customers. Red and Blue Tuff 1's were immediately introduced into the BMX market at this time as well.
With their success in the BMX wheel market, Skyway decided it was time to do something different and introduced the "Tuff Fork".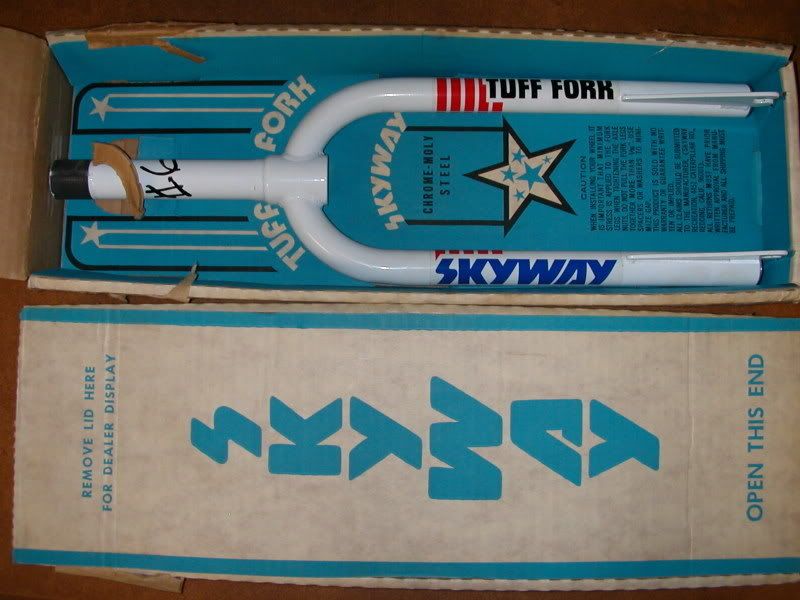 Shortly after that, they decided that they wanted to remain just "a wheel company" and decided to halt production of the fork just 6 months later.
With a few years of production behind them and with much data collected from BMX riders and the factory engineers, Skyway set out to improve their wheel design.
In 1979 "The Tuff Wheel II" was released. This wheel was lighter due to a more efficient use of material and was able to absorb 30% more load than the Tuff 1 model. This model featured the famous "Kool hub" flange design. A 5 spoked flange that was designed to keep the wheel cool as the hub heated up internally during use.
The first production Tuff 2's were available in coaster brake only, in black, red, blue, and yellow.
In the dawn of the 80's, Suntour worked closely with Skyway, providing them with their very first freewheel style Tuff Wheel hub. Sales skyrocketed with this new achievement and more and more BMX'ers were using Skyway's Tuff Wheels on their racing machines.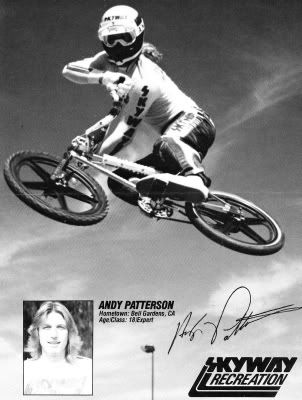 With the growing popularity of the sport, and with a number of sponsored riders now sporting Skyway jerseys at the local tracks, Skyway wanted to do something special for their factory riders, so after some work with the DuPont labs the famous Graphite Tuff Wheel was invented. This Graphite wheel featured special gold anodized hubs made by Campagnolo, also referred to as "Campy".
Perry Kramer was the first racer to win a national on a set of Graphites. His victory on the track sparked the demand for Graphite sales and the wheels were made available to the public, not just the factory riders.
By 1982, Skyway had seen much success. They had a great product, and terrific riders advertising the Skyway name across the country. Many bicycle companies were using Skyway Tuff's on their bicycles and it was common to walk into a bike shop anywhere in the country and see a set of Tuff Wheels hanging from the ceiling. The Skyway factory was producing wheels every day and, in addition to the BMX wheels, they also started dabbling in the wheelchair wheel market.
But that wasn't enough, it was time to step it up another level. They introduced the Tuff Pedal, which was a bearing-less graphite-reinforced pedal. One of the lightest pedals ever made. They also made a newer style brake pad in all the colors that the wheels were made in. There were many Skyway-logo items out that were available to racers- race pants, jerseys, T-shirts, hats, helmets, etc.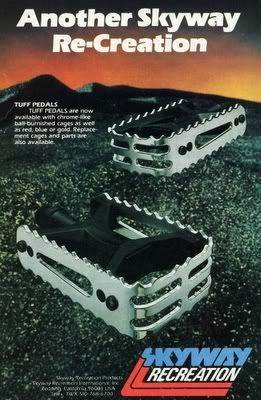 Skyway's engineers started to work on a special race frameset that would be both functional and beautiful. They opted for tear-drop shaped chrome-moly
tubing that had never been used before and after that first design was drawn up, many months of research and development followed. In late 1983, the "Skyway T/A" frameset was finally released. "T/A" stood for "Totally Aerodynamic" due to the use of the aerodynamic shaped tubing. It was perhaps one of the nicest looking framesets ever produced, even to this day! A masterpiece that weighed in at 4 pounds 2 ounces for the frame, and 1 pound 8-1/2 ounces for the fork. That was very light for an 80's BMX frameset!
Production on the T/A frameset went on for years, until the "freestyle" movement in 1986. The "T/A" was available in chome and white, and an inch longer XL version (in late 1984) that sported a 19-1/2" top tube also came out.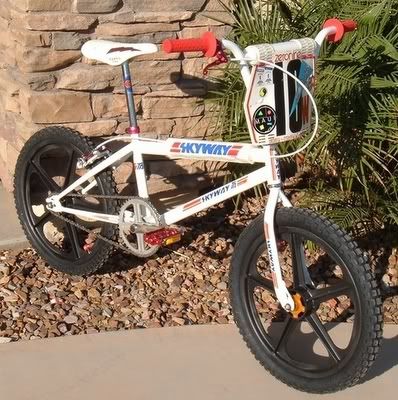 photo: Shannon Gillette / ABA bmx
Skyway also produced a "T/A" 24" cruiser frame for their factory team only. It is rumored that only 12 of those existed.
During this time period, Skyway also introduced the 16" pit-bike Tuff Wheel, and the 24" Tuff Wheel. Less than 100 Graphite 24" Wheels were made as well, to satisfy the need for the factory riders, as well as some of the amateurs that wanted a set of their own. White Tuff Wheels, pegs, the Freestyle Platform, freestyle and race bars also were introduced to the market.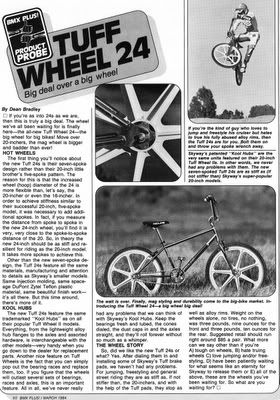 By 1985 there were a good number of "copycat" wheel makers out there, but Skyway was still the master of their craft. Skyway, wanting to improve their Tuff Wheel design again, re-tooled their molding machines and starting making the Tuff Wheel version that is still available today. This version did away with the metal and alloy flanges of the past model and had the "Kool hub" design actually molded in the wheel itself.
PHOTO- One of Skyway's wheel molding machines
By 1986, Freestyle BMX was the rage. Skyway had increased production of the Tuff Wheels and added new colors to include green, pink, orange, lavender, gray, and light blue. Freestyle framesets also hit production. The Street Beat was in essence a "T/A" front end with a wide rear end so riders could stand on their bikes while trick riding.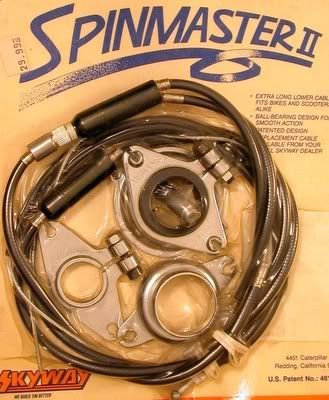 Over the next 2 years, Skyway moved forward and for the first time, introduced complete bicycles. They offered a few model freestyle bikes- the Street Beat, the Street Styler, and the Street Scene. Now that they were a bike company, their product lineup increased to include Skyway labeled gears, stems, and their own version of the gyro called the Spin-Master, which had been out a short time already by this point. The Skyway Freestyle team seemed to be at every contest and in every BMX magazine.
In 1988, Skyway also introduced 2 complete BMX Race bikes. The 280TA and the 300TA. Both of these models featured spoked Araya wheels, and not Skyway mags.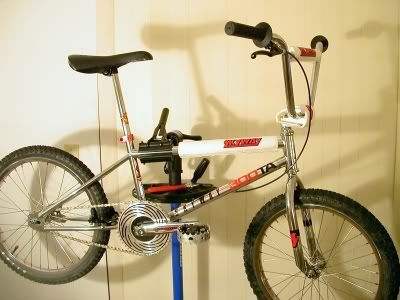 For as much advertising that Skyway did and for the amount of product they had produced, they tried very hard to stay in the BMX scene but by the very end of the 80's the BMX market had left Skyway and moved on to different names and products. There is speculation on why this happened so abruptly. Some say that nearly everybody switched over to either 48 or 36 spoked wheels, and others say that when Skyway became a bicycle company and started offering complete bikes, they themselves became competition to their customers that had been outfitting their bike lines with Skyway wheels. In any case, Skyway seemed to disappear from the BMX scene altogether.
Most companies would not have survived a hit like that. Instead of folding, Skyway went after the wheelchair wheel market aggressively, and succeeded.
To this very day, the Skyway factory has remained at the same location in Redding, California. They have never changed hands and, in fact, many of the employees that were there during the hay day of the BMX era are still there today. Skyway has remained diverse in the range of products that they offer their many customers. They are still a huge manufacturer of composite wheels, with applications that range from a Rubbermaid bin that you can find at your local WalMart, to Search and Rescue vehicles that can be found on the battlefield, to unmanned aerial aircraft.
37 years after the invention of the first Tuff Wheel, Skyway still makes the wheel that made them famous. As a product of the "Vintage BMX" movement, and the popularity of "retro" looking products, Skyway wheels are making a comeback. In 2005, Skyway began producing the Tuff II wheelset in the "old school" colors again. Right now, Skyway Tuff Wheels, for the first time in nearly 16 years can be found as OEM stock wheels on some BMX bikes in bicycle shops.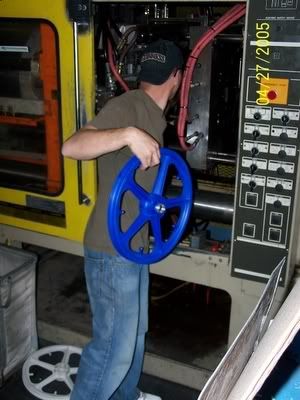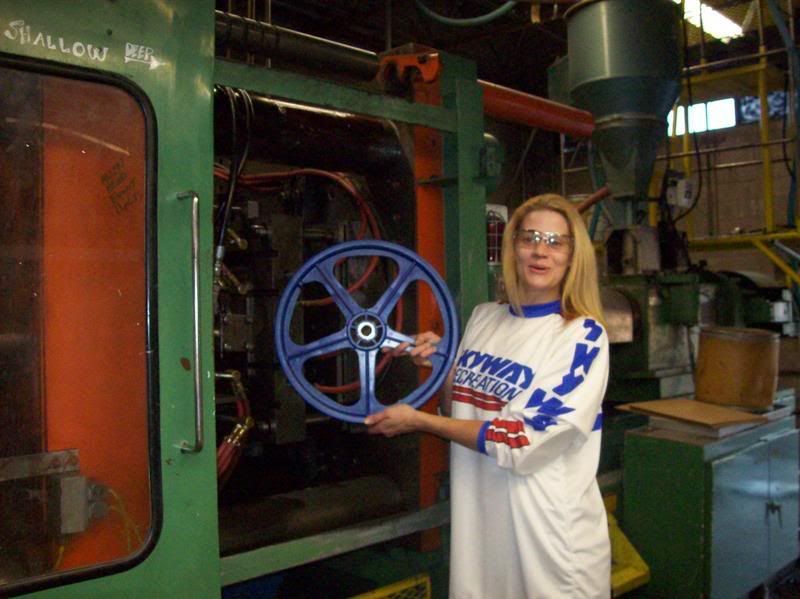 Freestyle icon Dave Mirra who recently started his own company, Mirraco, had Tuff Wheels on a bike in his '07 and '08 product line, called the "Retromag".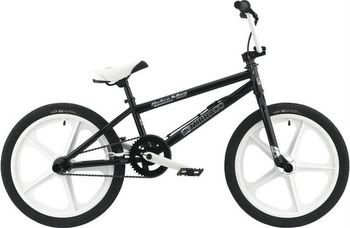 SE Racing featured Tuff Wheels on their 2007 retro PK Ripper!
Others have outfitted bikes with Tuff Wheels in 2008 as well.
Skyway is alive and well indeed!
2007 - 2009
To celebrate the 25th Anniversary of the Skyway T/A, and the history of Skyway, we have released 150 "original" Skyway T/A framesets. These framesets use original True Temper tubing that was leftover when Skyway stopped production of this legenday frame in the late 80's.

These framesets were welded in Florida by former Skyway factory racer, and ABA BMX Hall-Of-Famer Greg Esser.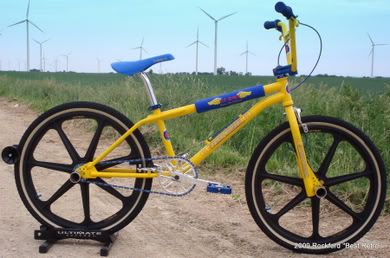 In 2008 Skyway re-released the original 80's style 24" Tuff Wheel!
Available right now in black, white, blue, and GRAPHITE! (Red and yellow is now sold out)
We'll be offering all of your favorite colors in the 24" Tuff wheel as time rolls on.
2010 saw a brand new re-release of American-made Skyway Pro handlebars. With 29" width, and 9.25" height, this bar is killer!
2012 will bring a brand new Cruiser version of this bar.

2012 saw the release of the long-awaited Skyway 24" T/A XL frameset! After 5 years of planning, it was finally released in August!
Also released in 2012 - Skyway Pro Bars, Skyway Cruiser bars, Skyway race frameset pads by Flite, and Skyway Tuff Pedals by Bullseye!
In 2013 Skyway released the modern 20" T/A XL frame and fork set!
We are proud to be Skyway's ONLY official outlet for the new colored Tuff Wheels!